Making The Yankees Great Again
Hang on for a minute...we're trying to find some more stories you might like.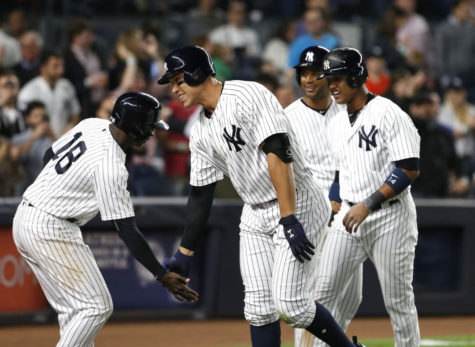 The MLB regular season is in full swing and all eyes are on the New York Yankees, who made big moves during the offseason to strengthen an already explosive lineup of young stars. With the addition of Giancarlo Stanton who hit a staggering 59 home runs and drove in 132 runs, Yankees fans have high expectations for this relatively inexperienced team.
"I think the expectations for this team and the pressure on them is pretty substantial but they've got a lot of great talent and I think they'll live up to the hype," said Yankees fanatic Tyler Callagy.
Despite the team's slow start to the season, the Yankees have picked things up in recent weeks and showed they are a team to not only respect but fear. Stanton seems to be slowly rising up out of his slump as he settles into playing in New York and the decision to bring up minor leaguer Gleyber Torres seems to be paying off as he is hitting 333 in his first 48 at bats. Aaron Judge is off to a solid start, hitting just under 300 and Didi Gregorius is picking up right where he left off last season, batting 313.
The biggest question still remaining is the pitching staff and whether or not they can consistently take some pressure off the offense. Thus far the Yankees' pitching has been fairly solid but they have not produced the way fans expected. C.C. Sabathia has had two fantastic starts but with his limited pitch count the Yankees have to rely heavily on the bullpen in games he pitches. Sonny Gray, the pitcher many expected to be their ace, is still having trouble finding a groove.
When asked what he thought about Gray's slump, Remi Spiegel Brown stated, " I think he's going to figure things out, he's a young guy and he's still learning but he's showed he's got talent. I just hope he doesn't become another prodigy who couldn't handle the pressure of playing in New York."
Many Yankee fans have the same hope as New York has been one of, if not the toughest stage to play on in sports. Whether or not Sonny Gray will work out remains to be seen but if he were to come around it would be a lethal pairing with the already potent offense, making the Yankees not only legitimate championship contenders, but the favorite once again.